Last Will & Testament, Inc.
John Venable started the Hollywood Connection Short Screenplay Competition to give others the chance that he had... to write a script for established Hollywood talent! John wrote and directed "Last Will & Testament, Inc." which was one of three scripts written for his friends Charles Baker, Charles Halford, and Patrick Sane to be in. "Last Will..." was everyone's favorite, so that's the one we shot. The film is complete now, but can't be posted online as we've just started our festival run where we'll hopefully get to talk about the HCSSC with other filmmakers in person.

CLICK HERE TO WATCH IT ON YOUTUBE!
Last Will on IMDB

FESTIVAL SCREENINGS
We're very grateful to the festivals who have screened "Last Will & Testament, Inc." and are incredibly excited that it's won the overall prize for short films at two of them! We've spent enough on entry fees and made some great connections at the festivals that we went to... mission accomplished. If you want to watch the film, click here.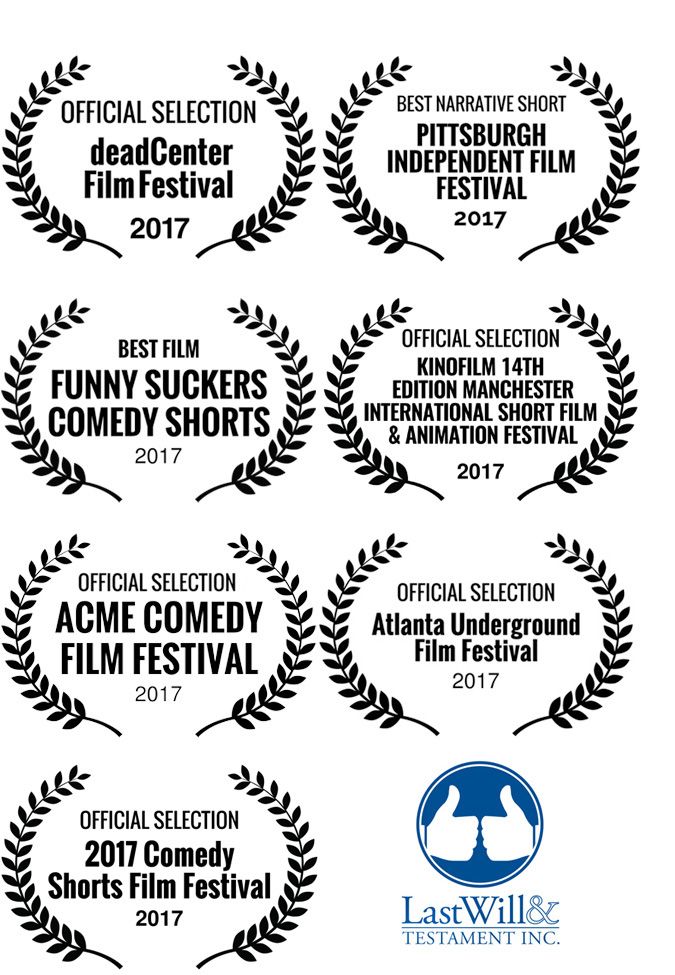 CAST
Charles Baker - CB
Charles Halford - Christopher Lazlo Knight
Patrick Sane - Derrick Mitchell Knight
John Venable - JV
Denise Moses - Martha Lynn Knight
Rachel Golden-Baker - Lawyer

CREW
Douglas Mark Taylor - Executive Producer
Associate Producers - Anthony Akiniz, Joey Chang, Julia Coe, Mike Cramer, Shelley Dunn,
Fred Larucci, J.P. Miller, Trisha Miller, Scott Monts, Jeff Pappas, Jennie Rexer
John Venable - Writer/Director/Producer/Composer
Alec James Milewski - Director of Photography
Steve Bethers - Sound Mixer
David A. Baker - Boom Operator
Nate Rubin - Production Assistant
Rachel Golden-Baker - Catering

back